Sharing from the UC Davis News site: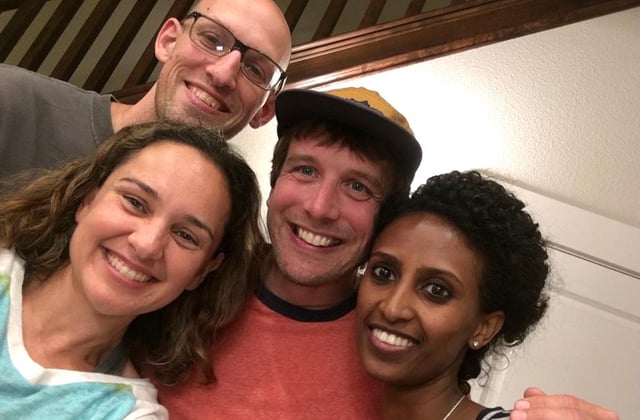 Sara Gebremeskel, right, and hosts Siobhan Brady, left, and her husband, Jeremy Koch, top; and Cody Markelz, husband of
Sharon Gray, whose dream it was to bring Sara to UC Davis for training.
This is a story of loss and promise — the loss of a UC Davis researcher, Sharon Gray, and the promise of other female scientists who have her legacy as a source of support.
Young women like Sara Gebremeskel of Ethiopia, who recently had a three-month internship at UC Davis, after having met Sharon in October 2016 at the Ethiopian Institute for Agricultural Research. Sharon was in Ethiopia to assist in the launch of a research project; she was a postdoc, working with Siobhan Brady, associate professor in the Department of Plant Biology.
During that visit, Gray and Brady were riding in a car on the outskirts of the Ethiopian capital, Addis Ababa, when a rock crashed through a window, striking and killing Gray. The Netherlands Institute of Ecology, which leads the project that brought the scientists to Ethiopia, attributed Gray's death to a random act of a few young individuals throwing stones at passing vehicles.
"I knew Sharon for only two days," said Sara, a research assistant at the National Agricultural Biotechnology Research Center, part of the Ethiopian Institute for Agricultural Research. "She was easy-going, always smiling, and so energetic and passionate about science like I am, so we got along together very well."
Sharon was 30 and Sara was 29. "Maybe that helped us to communicate easily," Sara said. "She was asking me a lot of questions, and I was, too. She asked me if I wanted to do my Ph.D., the activities I am involved in, my future ambitions. During our tour in the lab, I was telling them the gaps we have, especially on the technical part."
Sharon saw promise in Sara and was determined to bring her to UC Davis for training.
Scientific exchange
Sharon's husband, R.J. Cody Markelz, a postdoc in another plant biology lab at UC Davis, set the wheels in motion when he established a GoFundMe account in his wife's memory. "The mission of this current campaign is to make something positive out of this tragedy," he wrote on the fundraising site, describing "Sharon's idea of bringing a young female Ethiopian researcher to UC Davis for a scientific exchange."
Tracy Raines, principal investigator with AgBiome USA, who was with Sharon in Ethiopia, filled in the details: "When we visited the labs … she was so excited to come back to help train the scientists and to help them use the equipment to which they had access, but were not knowledgeable on using."
Full article available here