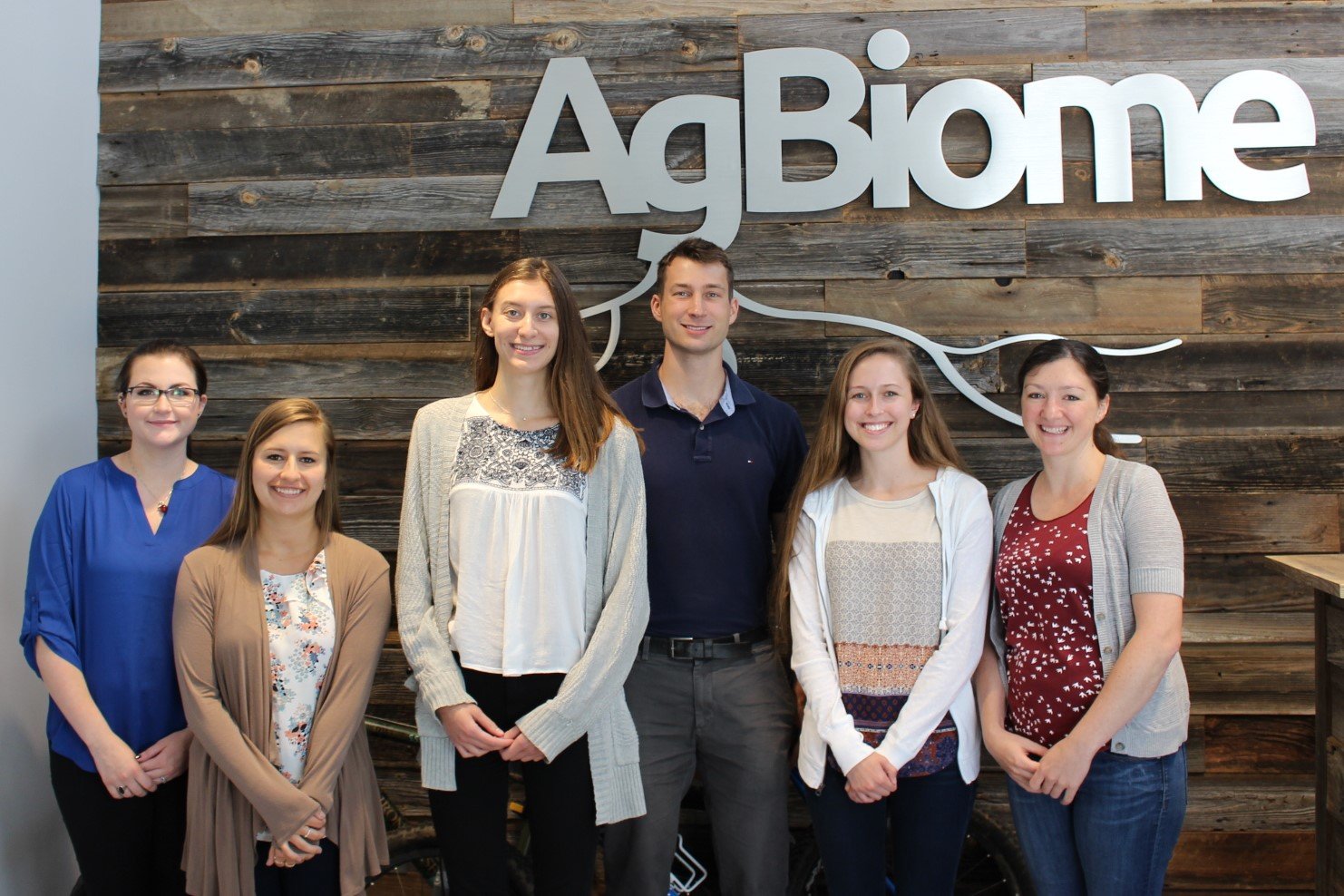 The 2018 AgBiome Summer Internship participants. Pictured from left to right: Morgan Rose, Megan Mackowiak, Madison Rackear, Jacob Hyman, Leah Gilmore, and Saunia Withers.
The second year of the AgBiome summer internship program is now underway with a brand new group ready to contribute to our science and culture. After a half-day of reviewing business operations, safety, projects, and business interests, the interns were turned loose to start work on their projects. This year AgBiome is hosting six interns spread over the plant pathology, plant transformation, formulations, microbiology, and LifeEdit groups.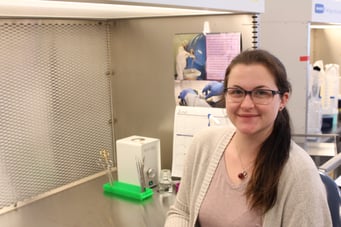 Meet Morgan Rose, a N.C. native and rising senior at Meredith College studying Mathematics and Biology. During her internship Morgan wants to apply what she's learned in the classroom to the laboratory, and expand her knowledge of science disciplines and career opportunities. An interesting fact about Morgan is that she's the proud owner of two cats, one of which loves to play fetch.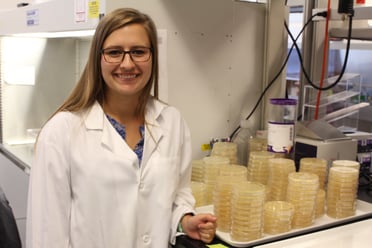 Our next rising science star is Megan Mackowiak. She's a graduate student in the Master of Microbial Biotechnology (MMB) program at N.C. State University and has a degree in Food Science also from N.C. State (Go Wolfpack!!). Megan is one of two interns in the plant pathology group this summer. She wants to absorb as much information as possible from many of AgBiome's project teams and gain a stronger knowledge of the plant pathology discipline. A fun fact is she likes to kickbox and loves to paint.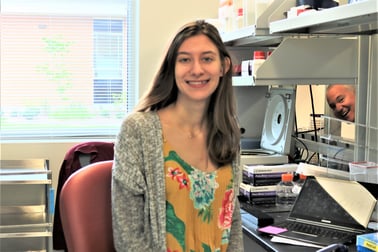 Intern Madison Rackear has joined LifeEdit, a subsidiary of AgBiome, for this summer. She is a rising senior at UNC-CH pursuing a degree in Biochemistry with a minor in Social and Economic Justice. Madison is deeply interested in the interaction between scientific research and philanthropy. She is most looking forward to seeing how research in an industry setting differs from that in academia. This summer she is challenging herself to attend more business meetings to learn about agriculture markets. An interesting fact about Madison is that she has studied abroad twice! Once was over the summer in Sweden, and once was for a full semester in Thailand.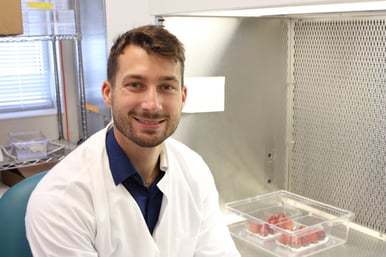 Jake Hyman, a graduate student in the N.C. State MMB program, is working on the foliar plant pathogens project team. He has an interest in marketing and will be taking photos and creating time lapse photography videos to showcase AgBiome products and other fungicide hopefuls in the pipeline. He hopes the internship will offer the opportunity to narrow his focus on a more specific career path within the sciences. A cool tidbit about Jake is that he was born in Oregon and is the child of two British parents. When Jake graduated from high school, he put his British passport to work and found a job as a cook in a European ski chalet.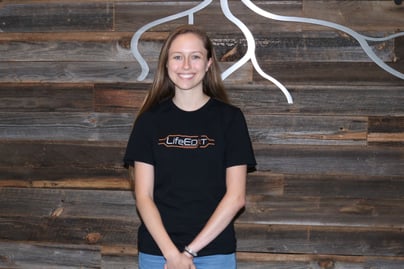 Leah Gilmore, a rising senior majoring in biology at UNC-CH, is working in the formulations group. During her internship, she wants to learn more about the fermentation and formulation processes and their role in developing a biological product. In addition, she wants to gain new skills and techniques to apply towards future projects. Leah is a North Carolina native from Summerfield and an interesting fact about her is that she plays the flute in the Symphony Band at UNC-CH.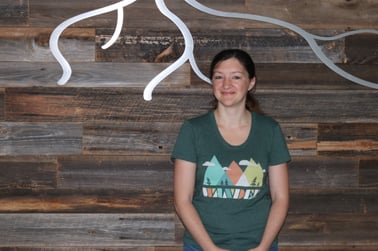 Saunia Withers, an intern for the microbiology team, received her B.S. degree in geological sciences at Ohio University located in Athens, OH. After, receiving her degree she accepted a position as a technician in Plant Biology/Biochemistry under Dr. Curtis Wilkerson. During her internship, she wants to gain experience working with new fungi and learn more about the field of microbiology. She is also using this position as a way of jumping back into science after taking a break to care for her young daughter. An interesting fact about Saunia is that she's a talented musician, playing cello and the viola, for family, friends, and in a Grateful Dead cover band.
AgBiome is very excited to work with our newest group of interns and can't wait to see what questions they answer by the end of the summer. If you're interested in our summer internship program, or in applying to other AgBiome opportunities, check out our website at agbiome.com/careers. Internship descriptions are posted in March of each year.