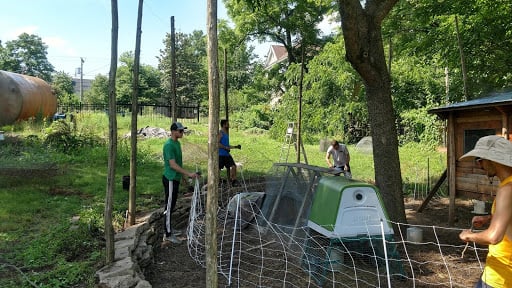 AgBiomers working to take down the old Seeds chicken coop and raise a new one.
On June 7th the philanthropy group returned to SEEDS community garden to help out with weeding, mowing, and keeping the garden clean. This trip's big project however was tearing down the barbaric 15' tall wire thunderdome that the non-profit's chickens had been living in for years. Armed with gloved hands, wire cutters and pliers, the team spent the morning working to break down the giant metal monstrosity piece by piece.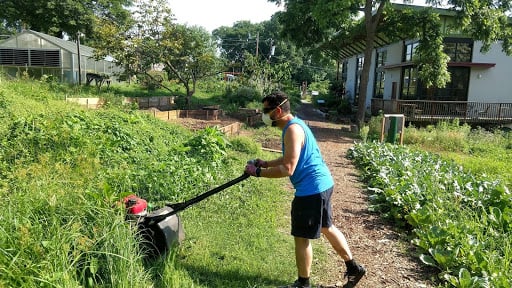 AgBiome employee, Mauricio Borgen, volunteering in the Seeds' garden.
This was the group's third trip to SEEDS and it's always a highly anticipated outing for the AgBiome team. We use philanthropic work as an opportunity for us to build stronger relationships with each other. As a company we aim to not only improve agriculture across the world, but also the lives of those in our community by supporting local organizations that aim to do the same.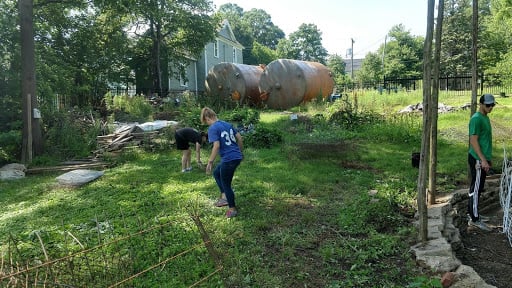 SEEDS is an urban garden and kitchen in downtown Durham that aims to educate local youth on the importance of growing, cooking and sharing food within our community. Their 2 acre farm is located off of Gilbert St and is always looking for more ways to get their message out to the community. If you're interested in volunteering or supporting their cause visit http://www.seedsnc.org/# or call them at (919) 683-1197.
Kayla Owens, helps dispose of old chicken cage wire once the demo was complete.