To kick off our next series exploring different AgBiome labs and spaces, we wanted to start with one of the most exciting jobs in our company! Working in the greenhouse presents a lot of challenges when it comes to supporting multiple research projects, but it's a lot of fun because every day is different.
Meet Robin Dale, an AgBiome employee since the fall of 2016, who has an extensive list of responsibilities caring for plants in controlled environments. This includes greenhouse and growth chamber spaces, with some houses filled with plants from almost a dozen different projects.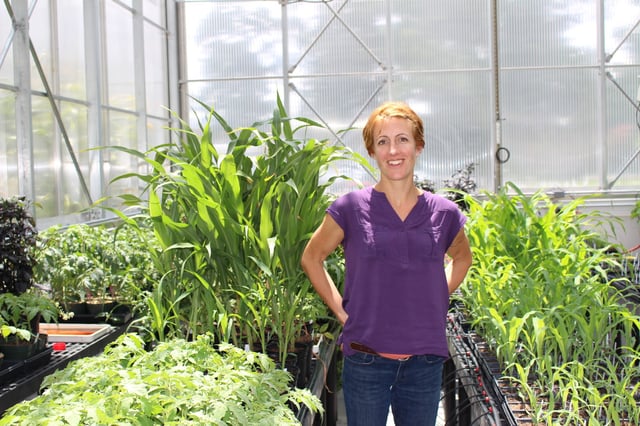 Her day begins with watering plants, general plant maintenance, pollinating corn for AgBiome's transgenic program, and seeding and transplanting experiments for our other functional groups.
Other tasks that are often carried out during the day can include equipment maintenance, managing the chemical inventory, and implementing greenhouse upgrades such as our new automated irrigation system. Luckily, there are a few greenhouse team members to cover all the greenhouse responsibilities.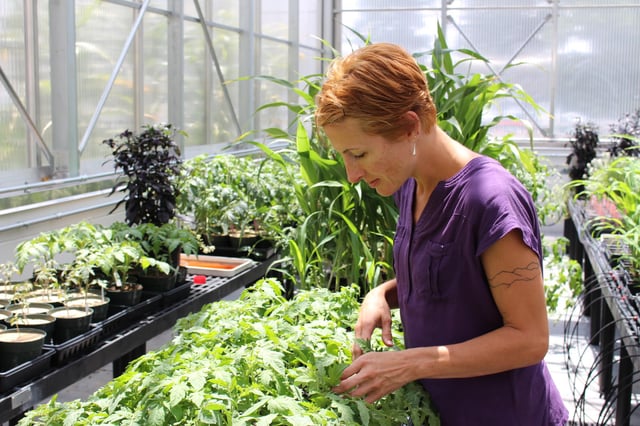 In an environment favorable to pests in addition to plants, scouting for pests and biological control organisms is something important to track daily. Robin maintains a pesticide applicator's license, but due to excellent sanitation, cultural practices, timely scouting, and use of biological controls, little to no chemical interventions for pest control have been needed in company greenhouse spaces.
One thing Robin enjoys the most about her job is participating in project teams where she has been able to learn a lot outside her area of expertise and assist with pushing products through early development. She has a true love of integrated pest management and also enjoys working with insects.
In previous positions, Robin has worked in the Durham Museum of Life and Science's Insectary, Butterfly House, and gardens around the property. Additionally, she has experience with other agriculture companies in the areas of plant and insect propagation, and soybean transgenics. AgBiome is lucky to have her expertise for our soybean and corn transgenic programs, which require a lot of time and skill for success.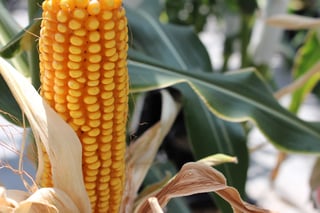 For instance, the greenhouse team is charged with bulking corn varieties for experiments and
pollinating plants for producti
on of corn embryos (very small, immature kernels) for transformation with genes of interest. Determining whe
n corn silks are ready for pollination is a combination of art and science because silks can only be pollinated in small window of time when they are receptive to fertilization.

Robin and the greenhouse team are also tasked with looking into the future. They determine strategic upgrades to our space with possible new additions including a soybean thresher and potting machine. The future of AgBiome's greenhouse team is bright as they anticipate testing new technologies, such as LED lighting, to constantly improve equipment, experiments, and products.