Did you know that the average American eats 124 lbs of potatoes a year, that the potato was the first vegetable to be grown in space, and Vincent van Gogh painted four still-life canvases devoted entirely to the potato!?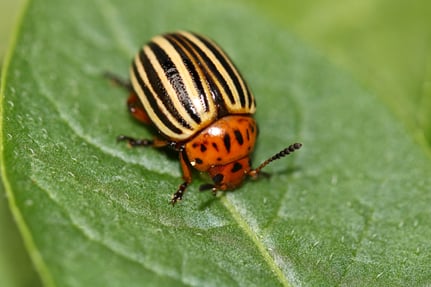 It's true and protecting potatoes, which are grown in all 50 states in the U.S., is one thing AgBiome is striving to do. Part of AgBiome's vision is to have the best products for crop pest management. This includes biological solutions for economically important plant pathogens, nematodes, weeds, and insects. The biggest insect pest of potatoes is the Colorado potato beetle and our approach to control this important insect pest is through biological control products.
Colorado potato beetle (CPB) is an attractive insect with a yellow and black-striped shell, but it can be devastating to farmers growing potatoes and tomatoes. Synthetic insecticides are available for control; however, selection for insecticide resistance in the CPB population happens at a rapid rate, with resistance to 52 classes of insecticides being reported. A biological control approach could help reduce the rate of insecticide resistance in the CPB population, give farmers new tools for management, and offer organic growers options for control.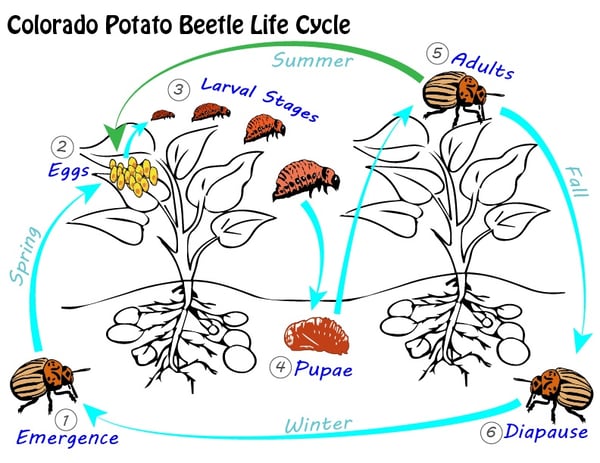 Graphic by Chad Keyser
In addition, females can lay up to 800 eggs during their lifetime and CPB's reproductive strategy spreads offspring in time and space, making them even more difficult to control. Larve can eat an enormous amount of plant material as juveniles, so this life stage is an important target.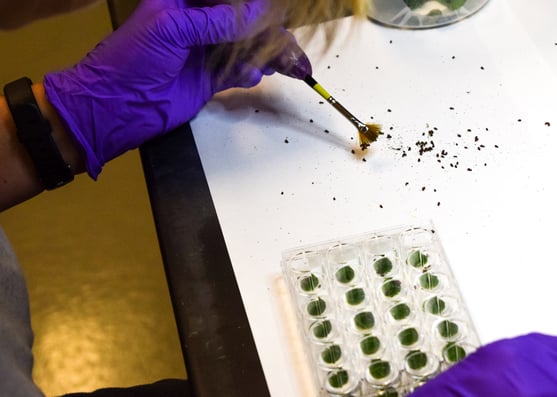 We test microbes from our collection of over 50,000 strains for activity against CPB using a detached-leaf disk assay. Leaf disks are treated with a microbe and allowed to dry, then 2nd instar CPB larvae are added to each leaf disk using a paint brush. After larvae feed, the amount leaf consumed and insect health are recorded.
Microbes of interest that prevent feeding and/or kill larvae, move to on-plant testing in the greenhouse before being screened for activity in the field. This lab assay also serves as a surrogate for other beetle pests of interest including sweet potato weevil, which is a project funded by the Bill and Melinda Gates Foundation.
For more info on Colorado potato beetle and additional entomological projects at AgBiome, come see us at BugFest 2018! The North Carolina Museum of Natural Sciences will host BugFest on Saturday, October 20th, so mark your calendars and check their website for program updates: https://naturalsciences.org/calendar/events/.
Special thanks to Elka Armstrong for providing photos for this article and to Chad Keyser for the CPB life cycle graphic.