From Discovery to Launch
What does it take to develop and launch a product at AgBiome? A team with over 50 hard working people, excellent teamwork, endless hours of research and testing—and this is just scratching the grain bin.
Let's rewind to the beginning. It all stems from AgBiome's microbial collection—the invaluable heart of our platform. We start by isolating microbes from environmental samples taken from a diverse variety of environments. During AgBiome's early years, several of our first samples were collected from our own employees' family farms. One of these samples, ten years later, proved to be a very influential one—as it now sits before us as a fully developed product.
The strain that is now known as Theia fungicide, was originally isolated in 2013 from soybean grain bin dust in Pocahontas, Iowa. It was at this same farm that Dr. Phil Hammer, who started at AgBiome on its first day of operations, grew up.
The dust was collected from the walls of the empty grain bins. The team's decision to collect the dust was two fold: (1) The grain dust was dry and thus enriched in spore formers and other microbes that can withstand desiccation, and (2) it was a natural collection of microbes that have been in and on the plants through the growing season.
"From the beginning, we wanted to build a collection that was relevant to agriculture, so we concentrated on agricultural crops, environments and geographical areas. We had a structured sampling program where we collected leaves, roots and soil from corn and soybean breeding plots throughout the midwest. We supplemented these with other 'interesting' samples—weeds, dead insects, etc.," Dr. Hammer said. "I was on a family vacation, visiting my parents on the farm where I grew up, and I took the opportunity to collect some samples."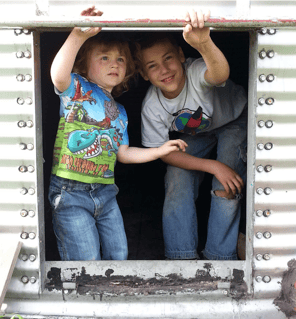 .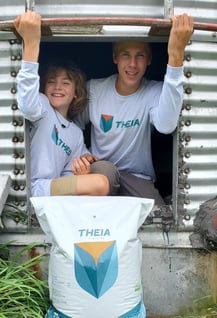 .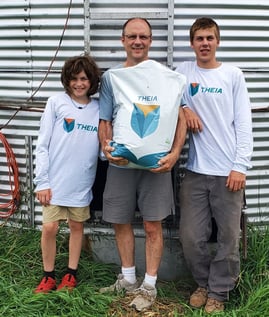 (Left) Phil Hammer's sons at their family farm where sample was collected in 2013.
(Center) Phil Hammer's sons at their family farm in 2022. (Right) Phil Hammer with his two sons.
Phil Hammer with Theia fungicide.
Over the last ten years, AgBiome has been on a journey of continuous growth and development; a company that began with five employees, now operates with over 100. At the end of the day, our unique small-company bond and culture—a key ingredient in the making of AgBiome—remains a constant amidst the change. Everything we do at AgBiome reflects this, including our products.
It is this collaborative culture that inspires and propels us. It creates a space for creative and innovative ideas to take root and thrive, growing into fully-developed products that are effective, powerful and meet growers' most pressing needs. Theia fungicide is a result of all of this. Family sourced. Family developed. Family grown.